Roll over image to zoom in
Description
SAY GOODBYE TO FRUSTRATING VEGETABLE CUTTING WHEN PREPARING MEALS!

Clever Cutter is going to revolutionize your kitchen with the way it chops through anything in seconds. Its premium design that includes pressure handle with spring enables faster cutting.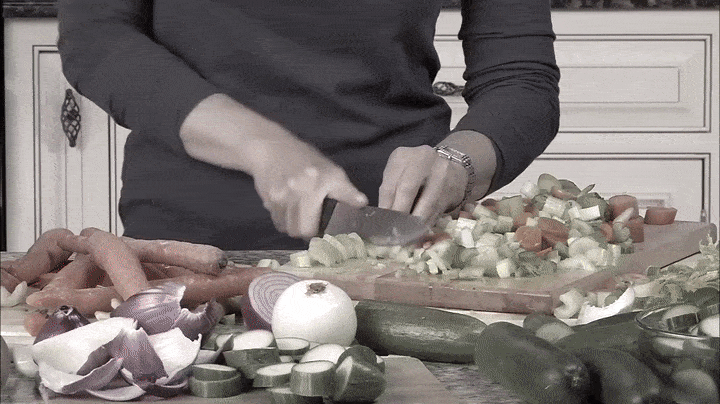 Become an expert food chopper with the Clever Cutter! Armed with this vegetable cutter scissors and you have a complete cutting utensil rolled into one.
Multi-functional and easy to use, this clever food cutter will fit perfectly into your kitchen tool collection. Whether your cutting fruit or veggies, this a full chopping kitchen in one nifty package.
Chop vegetables in seconds! Slice vegetables in seconds! Never worry about struggling to cut hard veggies ever again! With the clever cutter at your side, those carrots and squashes will be sliced and diced with ease!
This vegetable cutter scissors allows you to efficiently and cleanly cut through food. The key to its safe and effortless cutting is a pressure release handle that gives you much more control. With this handling system, you won't need to apply as much strength to chop and cut.

If you have a weak grip or a medical condition like arthritis, the clever cutter is the kitchen tool for you. Stop hurting yourself and cut easily with this vegetable cutter scissors! Whatever item you want to cut, you can do it with the vegetable scissors:

Slicing, Cutting, and Chopping

Vegetables
Meat
Fruit
Cheese
Many more food items.
FEATURES
NO FUSS: Do you have a hard time cutting food? Put your struggles behind you with the

 

chopping kitchen. With

 

razor-sharp blades

 

made of stainless steel, the

 

cutting board scissors

 

makes chopping food something you will look forward to!
SAFETY FIRST: As well as making your kitchen cutting duties easy,

 

the scissor knife

 

is also safe to use. It features a built-in safety latch that ensures the cutter is always closed when you store it.
EASY TO CLEAN: Avoid spending time doing the dishes! The

 

clever food cutter

 

is very easy to clean and can even be safely put inside your dishwasher.
This all-in-one utensil can replace so many tools you already use. That makes it something you need to have in your kitchen today. Get the vegetable cutter scissors now and wave goodbye to hard work chopping, cutting, and slicing food.

PACKAGE INCLUDED



1x Clever Food Cutter, Vegetable Cutter Scissors
Payment & Security
Your payment information is processed securely. We do not store credit card details nor have access to your credit card information.